1. Search and Download the "Barteos Australian Wallet" from the ios and android App Stores.
Once the app has finished installing, open the app, follow the prompts.
Note: There is also a Global Wallet on the APP stores, for the transfer of BTE, with no country Trade Dollars or cashback systems. This Global Wallet is suitable for all countries outside of Australia – Search "Barteos BTE".
2. Now create a new account using your mobile number. Your mobile number will become your permanent account number on the Barteos Blockchain.
Note: Drop the leading zero when inputting your mobile number
ie +61420634953
NOT +61 0 420634953

You will then be asked to input a six-digit verification code that will be sent to your phone by SMS.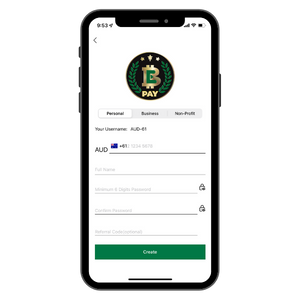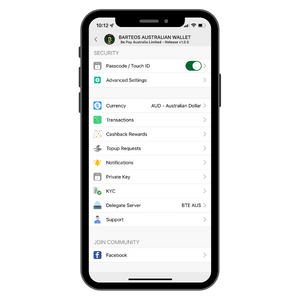 3. Once you are in your wallet, click on the Settings icon in the top right corner of your screen, then click the 'Private Key' tab which should then show your private key. Copy your Private Key and store it in a safe place.
Note: If you lose your Private Key you will lose access to your BARTEOS account permanently. Place it somewhere safe!
4. Tap the Picture bar on the Home Screen on the top left side and place your profile picture and any missing details, including your contact email and save.
Note: For regulatory and compliance purposes, You will not be able to transfer funds unless your KYC details and face picture is uploaded and approved.